Flying to Bhutan is fairly easy. Ever since tourism in Bhutan began to open up to the world in 1974, there has been a lot of effort to connect the world to Bhutan. Travellers can either travel to Bhutan by air or by land. All travellers are required to book their trip to Bhutan through a licensed tour operator. Your tour agency will be able to handle the end-to-end trip coordination for you from visa application, booking of flights, accommodation and planning of trip itinerary.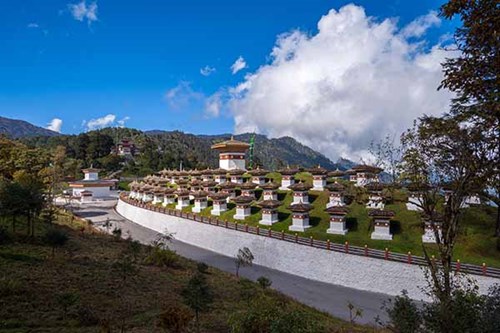 Why travel with Druk Asia?

Druk Asia is a trusted and also the largest tour operator in Bhutan that has served thousands of guests from all over the world. We are committed to providing all our guests with a hassle-free travel experience and ensuring that they leave the enigmatic Kingdom with lasting memories. In addition, your travel visa approval will be guaranteed and we also provide all our guests with SIM card approval arrival and a set of those beautiful Bhutanese traditional costumes (to be returned at the end of the trip) for photo taking throughout the trip. The itinerary is also highly customisable based on your interests. Our professional tour guides have brought smiles and forged friendships with travellers from different demographics and backgrounds. You can read about what all the travellers have said about us here.
Visiting Bhutan by flights

You can fly directly into Bhutan from 5 Asian countries. Drukair, (Royal Bhutan Airlines), the national carrier, currently operates in Bangkok (Thailand), Singapore, Kathmandu (Nepal), Dhaka (Bangladesh) and New Delhi, Kolkata, Gaya, Bagdogra, Guwahati (India). All these destinations will be able to fly you directly into Paro International Airport, the only international airport in Bhutan. It is claimed that the landing in Paro International Airport is one of the most dangerous landings in the world where only certified pilots can navigate. The spectacular views of the traditional houses and gorgeous Himalayan mountains from the aircraft are also one that will be etched in your memory for a long long time. In fact, many travellers mentioned that the entire landing experience is unlike any they have experienced before.
- Drukair has daily flights from Bangkok to Paro International Airport, Bhutan daily.
- Drukair flies from Singapore to Paro International Airport, twice a week.
- Drukair has daily flights from Kathmandu, Nepal to Paro International Airport.
- Drukair flies from Bangladesh, Dhaka to Paro International, thrice a week.
- Drukair has daily flights from New Delhi, Kolkata, Gaya, Bagdogra, Guwahati in India to Bhutan.
Find out more information on:-
We will be able to reserve your tickets for up to 30 days with no fee or penalty should you wish to make any changes to the dates. Just speak to our friendly Travel Specialists! Flight tickets will only be issued after we have received payment and cancellation after issuance of the tickets will incur a cancellation cost. This reservation flexibility will allow you ample time to confirm your connecting flight and plan your trip to Bhutan without any worries.
Visiting Bhutan by cars

There are three points of entry into Bhutan through the borders with Indian cities if you plan to travel by land. You can either enter Bhutan through Phuntsholing, the main trade city located in southern Bhutan, Gelephu located in southern Bhutan, or Samdrup Jongkhar located in southeastern Bhutan.
Below are the three entry points to Bhutan via India:
- Phuentsholing (Bhutan) via Jaigaon (India)
- Gelephu (Bhutan) via West Bengal (India)
- Samdrup Jongkhar (Bhutan) via Assam (India) - You can take a flight to Guwahati Airport and travel by land to Samdrup Jongkhar